Buying Jewelry While on a Cruise?
Buying Jewelry While on a Cruise?
Posted on Monday, January 18th, 2016 at 5:23 pm by Mark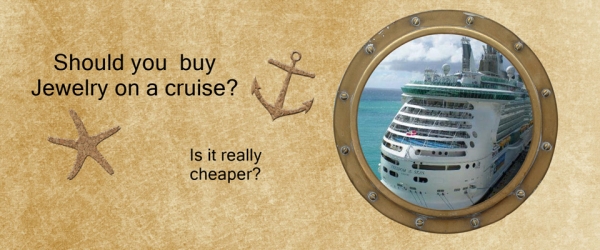 Not too long ago one of our customers came into the store wanting her jewelry cleaned. She had purchased many of the items during their yearly cruise.
"I didn't buy these items from you", she said, "I bought them cheaper while I was on a cruise."
"How do you know it was cheaper?" we asked.
"We bought it in the Bahamas, and we didn't even have to pay sales tax on it!"
Many people don't realize this, but most of the jewelry stores represented on cruises are owned by companies in New York. Also, in many cases, when goods are brought back into our country, vacationers still have to pay import fees even if the sales person tells them that they won't have to pay them.
When you purchase items in a vacation area there is no competition, so vendors can charge you whatever they want. You can't compare prices with another jewelry store since there is only limited selection. Competition makes for a better price for the customer.
Still not fully convinced that she didn't get a good deal, our customer added,
"But the place we buy it from sees us every year; they know us. We keep going to the same jeweler each year. They are so nice to us; they give us free drinks. Because they know us, they even took us out to supper while we were there."
Jonathan explained that the food and drinks that they 'give' people are not free. The cost of those perks is tacked on to the price of the jewelry.
Our customer looked surprised by this information and asked,
"Well, how much would you sell this piece for?"
Jonathan inspected one of the pieces-- a gold and diamond cross, and gave her a price.
"Oh, we paid more for it than that! We paid a thousand dollars more than that!"
Jonathan explained,
"That extra thousand that you paid for the cross was the price of your 'free' food and drink."
"Oh……maybe I should have bought it from Douglas Diamonds!" she concluded.
It is very easy to be tricked into value and quality that is not real, especially when you are on vacation. We have had other customers who have purchased what they were told was a 1.00 Ct diamond, but when the diamond was actually measured and weighed, it was only a 0.70Ct stone, which had far less value then they had originally thought. Their "good deal" ended up being an OK price for what they got, but definitely not what they expected.
You will also want to consider the warranty and return policy of vacation purchased jewelry. In this case the return policy was ten day. Those ten days had expired before our customer had even gotten back home, and by the time we inspected the diamond and found out that it was misrepresented, what could they do? They considered contacting the vender to return the item, but then they would have to mail the ring back in hopes that they would really be refunded and risking the ring being lost in the mail. The trouble and risk of returning the item caused the customer to keep the smaller diamond and make different decisions in the future.
Please enjoy your warm vacation get-a-way, but consider buying your jewelry from your local jewelry store.