Heading to Antwerp, Belgium for the Best D...
Heading to Antwerp, Belgium for the Best Diamond Values
Posted on Thursday, October 13th, 2016 at 2:09 pm by Mark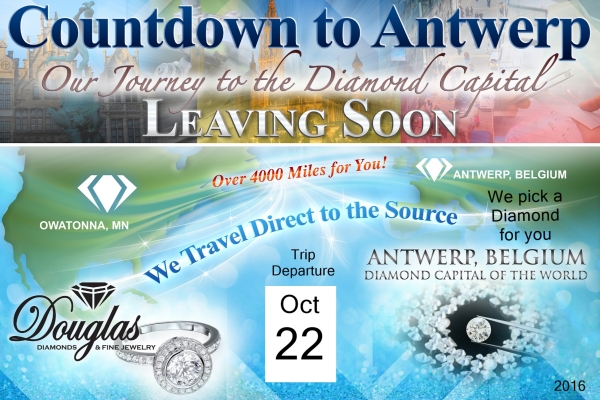 Mark and Jonathan Douglas of Douglas Diamonds in Faribault and Owatonna are leaving Oct. 22nd for Antwerp, Belgium, known as the "Fine Diamond Capital of the World." Douglas is a member of the Independent Jewelers Organization (IJO), which currently has six diamond offices in this historic city. They'll be able to buy directly from the diamond cutters, and have access to inventory far greater than they could find in the U.S.

"We learned that in 2020 Antwerp will celebrate 500 years in the diamond industry," stated Douglas. "I know there are other locations for diamond buying, but about two-thirds of the world's fine diamonds are traded in Antwerp, and that's why we're going. We'll be able to hand select the perfect diamonds for our customers. We are really excited about this unique opportunity!"

According to Douglas, "Some people think one can look at a piece of paper on the internet and select a diamond, but there's no way to tell if that diamond has life, fire, and brilliance. If I'm going to put my name and my reputation behind a diamond, I'm going to be certain it's the quality for which Douglas Diamonds is known."

IJO President & CEO Jeff Roberts says, "Antwerp diamond offices used to be accessible only to diamond wholesalers – the middle men – and independent retail jewelers weren't allowed to visit until Bill Roberts, my dad and founder of IJO, made arrangements for a couple of offices to admit IJO members back in the early 80's. That opened the door for independent jewelers, and I'm proud to say these trips have had a profound effect on our membership, as well as their customers!"

If you think the diamond of your dreams is in your near future, contact Mark or Jonathan and they'll be happy to go on a fruitful search for you. Douglas Diamonds is located at 300 Western Ave NW in Faribault and 1100 Frontage Rd W. in Owatonna, they can be reached at 507-332-2347 Fbo or 507-413-6305 Owt.